A Bollywood Affair by Sonali Dev:
Mili Rathod hasn't seen her husband in twenty years—not since she was promised to him at the age of four. Yet marriage has allowed Mili a freedom rarely given to girls in her village. Her grandmother has even allowed her to leave India and study in America for eight months, all to make her the perfect modern wife. Which is exactly what Mili longs to be—if her husband would just come and claim her.
Bollywood's favorite director, Samir Rathod, has come to Michigan to secure a divorce for his older brother. Persuading a naïve village girl to sign the papers should be easy for someone with Samir's tabloid-famous charm. But Mili is neither a fool nor a gold-digger. Open-hearted yet complex, she's trying to reconcile her independence with cherished traditions. And before he can stop himself, Samir is immersed in Mili's life—cooking her dal and rotis, escorting her to her roommate's elaborate Indian wedding, and wondering where his loyalties and happiness lie.
Heartfelt, witty, and thoroughly engaging, Sonali Dev's debut is both a vivid exploration of modern India and a deeply honest story of love, in all its diversity.
The Fill In Boyfriend by Kasie West
When Gia Montgomery's boyfriend, Bradley, dumps her in the parking lot of her high school prom, she has to think fast. After all, she'd been telling her friends about him for months now. This was supposed to be the night she proved he existed. So when she sees a cute guy waiting to pick up his sister, she enlists his help. The task is simple: be her fill-in boyfriend— two hours, zero commitment, a few white lies. After that, she can win back the real Bradley.
The problem is that days after prom, it's not the real Bradley she's thinking about, but the stand-in. The one whose name she doesn't even know. But tracking him down doesn't mean they're done faking a relationship. Gia owes him a favor and his sister intends to see that he collects: his ex-girlfriend's graduation party — three hours, zero commitment, a few white lies.
Just when Gia begins to wonder if she could turn her fake boyfriend into a real one, Bradley comes waltzing back into her life, exposing her lie, and threatening to destroy her friendships and her new-found relationship.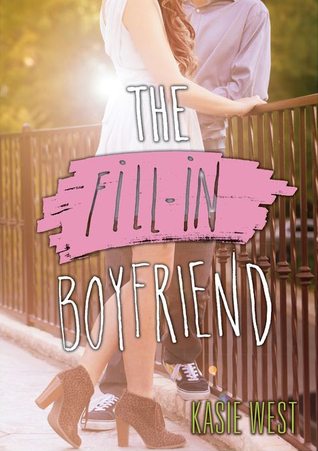 Dreamer's Pool by Juliet Marillier
Blackthorn & Grim Book 1
What if you were locked up awaiting execution and a stranger offered you a bargain that would set you free? What if accepting bound you to certain rules of behaviour for seven years, rules you knew you were likely to break within days? And what if the penalty for breaking them was to find yourself back where you started, eaten up with bitterness and waiting to die?
Blackthorn chooses life, even though she must promise not to seek vengeance against her arch-enemy, Lord Mathuin. In company with a cell-mate, the hulking, silent Grim, the one-time healer and wise woman flees north to Winterfalls in Dalriada, where she settles in a derelict cottage on the fringe of the mysterious Dreamer's Wood. Blackthorn has promised her benefactor, the fey nobleman Conmael, that she will use her gifts only for good. But she and Grim are both scarred by the past, and the embittered healer finds her promise increasingly hard to keep.
At Winterfalls, Prince Oran of Dalriada has been eagerly awaiting the arrival of his bride, Lady Flidais, from the south. The lady's portrait and letters have suggested she is his perfect match, the one true love he's long been waiting for. But although Flidais proves to be as lovely as her portrait, the prince finds himself confused and disappointed. Has he made a terrible error of judgement? Or might there something Otherworldly in play?
Blackthorn and Grim find themselves swept up in a mystery that will require all their resources to solve: courage, ingenuity, leaps of deduction, and a readiness to accept the uncanny. Hardest of all will be grappling with their own demons.
Jinn and Juice by Nicole Peeler
Cursed to be a jinni for a thousand years, Leila nears the end of her servitude — only to be bound once again against her will. Will she risk all to be human?
Born in ancient Persia, Leila turned to her house Jinni, Kouros, for help escaping an arranged marriage. Kouros did make it impossible for her to marry — by cursing Leila to live a thousand years as a Jinni herself.
If she can remain unBound, Leila's curse will soon be over. But Ozan Sawyer, a Magi with the ability to See, Call, and Bind jinn has other plans.
Oz needs Leila to help him penetrate Pittsburgh's steel-soaked magic, a juice potent but poisonous to supernatural creatures, in order to find a missing girl with her own mysterious connection to Kouros. Unfortunately for Leila, becoming Bound to Oz may risk more than just her chance to be human once more — it could risk her very soul…
Jinn and Juice is the first in a new series by fantasy writer, Nicole Peeler, set in a world of immortal curses, powerful jinni and belly dancing.
Burn for Me by Ilona Andrews
Nevada Baylor is faced with the most challenging case of her detective career—a suicide mission to bring in a suspect in a volatile case. Nevada isn't sure she has the chops. Her quarry is a Prime, the highest rank of magic user, who can set anyone and anything on fire.
Then she's kidnapped by Connor "Mad" Rogan—a darkly tempting billionaire with equally devastating powers. Torn between wanting to run or surrender to their overwhelming attraction, Nevada must join forces with Rogan to stay alive.
Rogan's after the same target, so he needs Nevada. But she's getting under his skin, making him care about someone other than himself for a change. And, as Rogan has learned, love can be as perilous as death, especially in the magic world.